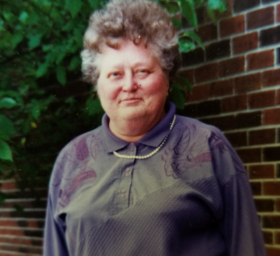 Sharon J. Anders, age 87, passed away at 2 p.m. on January 15, 2023 due to natural causes. At the time of her death she was living in Canton, Michigan after spending many years in her Farmington Hills home.
Sharon was born on April 24, 1935, in Detroit, Michigan. She was baptized and became a Christian in 1976.
Sharon was preceded in death by her parents and three siblings William, Dennis and Kathleen. She is survived by her two sons Mark (wife Michelle) and Paul, siblings Arlene, Jewdy, Lynn, Rita and Neil, as well as grandchildren Jacqueline, Kara, Rourke, and Leon. She was cremated and will be interred at Resurrection Cemetery in Clinton Township. A possible celebration of her life may take place around May 2023 in Michigan.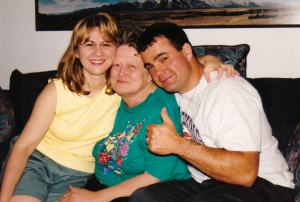 Sharon Anders (center) with
friends Grace and Vince Ogorek
Sharon lived a long good life and remained faithful to God to the end. She was a loving and supportive friend who will be sorely missed.
And they who are wise shall shine as the brightness of the firmament, and they who turn many to righteousness shall shine as the stars forever and ever (Daniel 12:2 - 3).