Photo By Dixon Cartwright
Issue #89 (June 2004)
Photo Notes
Dave is founder of Guardian Ministries.

Issue #84 (January 2004)
Photo Notes
Mark is president of operations for
the Intercontinental Church of God.

Issue #79 (August 2003)
Photo Notes
Phil is a 1970 Ambassador College graduate
and founder of The Reunion Institute,
a Houston ministry.

Issue #85 (February 2004)
Photo Notes
Scott is managing editor of Good News
magazine distributed by the
United Church of God, IA.

Issue #102 (July 2005)
Photo by:
Dixon Cartwright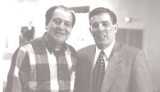 LEFT: Ellis Stewart
RIGHT: Jerry Aust
Issue #2 (March 1997)
Photo Notes
Photo taken in Louisville, KY. at UCG's
general conference of elders meeting.