"L"

Church of God Photo Library
"L"

From Left to Right:
Andrew, Tim, Hope and Hannah
Issue #72 (January 2003)

Photo Notes
Picture taken at a Church of God women's conference in Dallas, Texas, in 2000.
Issue #29 (June 1999)

Photo Notes
Norbert is a pastor in the
Church of the Eternal God

Issue #81 (October 2003)

Photo Notes
Floyd was a former superintendent of Imperial, the primary and secondary schools operated by the Worldwide Church of God in Pasadena, California. He passed away in October 2003 at the age of 91.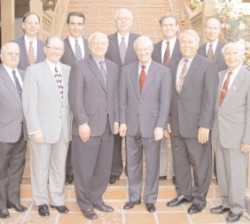 FROM LEFT, FRONT ROW:
Carl McNair, San Diego, Calif.; John Ogwyn, Gladewater, Texas; Richard Ames and Roderick Meredith, San Diego; Lambert Greer, Goshen, Ky.; Dibar Apartian, San Diego.

BACK ROW:
Doug Winnail, Dublin, Ireland; Mario Hernandez, San Diego; Charles Bryce, Kansas City, Mo.; Jeff Fall, Glendora, Calif.; Gerald Weston, Toronto, Ont., Canada.
(Not shown is Don Davis, Charlotte, N.C..)
Issue #70 (November 2002)
Photo Notes
Picture was taken at church's headquarters
in San Diego, California.