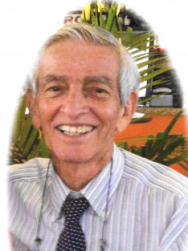 Manuel "Manny" Rojas, 88, of Holly Hill, FL, passed away peacefully on June 18, 2019. Manuel was born in Costa Rica, Central America on April 17, 1931. It was there he discovered his love for teaching and education. He moved to the Daytona Beach area in 1963 and began teaching at Ormond Beach Middle School.
Manuel, after several years teaching at Ormond, transferred to Seabreeze High School, where he taught Spanish, English and French and also coached soccer. He was a true advocate for soccer. After teaching, he served on the school board, retiring in 1993.
On July 27, 1988 he then became the founder and director of the House of God of Daytona Beach which served both English and Spanish speaking people. He dedicated many years studying the word of God, using every tool at his disposal to find the Biblical truth.
Manuel was very involved with his congregation until he was unable to do so because of his declining health, at which time he donated the building to the Church of God-Ministries International. He always put himself last and thought of others first. Manny will be well remembered by brethren, students, neighbors and anyone who crossed paths with him.
He is survived by his wife Carole Rojas, his daughter Nancy Rojas-Glad (Jay Cheevers), his son William Rojas, his grandchildren Laura Rojas-Glad and Wesley Rojas-Glad, his siblings who live in Costa Rica, numerous nieces and nephews, and many grateful friends and students. A Celebration of Life service was held at the Church of God-Ministries International, 138 Madison Avenue, Daytona Beach, FL 32114 on Sunday, June 30, 2019 at 2:00pm.