Church of God Memorial:
John Robinson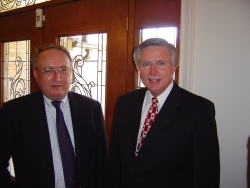 LEFT: Mark Robinson (John's brother); RIGHT: John Robinson
AUSTIN, Texas--John Robinson, 60, died January 5, 2006 in a hospital here of complications from prostate cancer.
Mr. Robinson, a longtime Church of God member, was publisher of the independent Church of God newspaper In Transition from 1995 to 1997, managing editor of The Worldwide News, published by the Worldwide Church of God, from its beginning in 1973 until it was discontinued by WCG founder Herbert Armstrong in 1978, a faculty member teaching journalism and related courses at Ambassador College and the University of Texas at Tyler through the late 1980s, and most recently CEO of Dynamic Resource Group of Berne, Ind., and Big Sandy, Texas.
Mr. Robinson, born in Glasgow, Scotland, held U.S. and British citizenship. He had earned a master's degree in journalism from Texas A&M University, Commerce.
He is survived by his wife of 38 years, the former Alice Rothery; his mother, Margaret Robinson of Tulsa, Okla.; sons John David and Stephen of Austin; a daughter, Rachel Venish, of Austin; two brothers, Mark Robinson of Plano, Texas, and Robert Robinson of Palestine, Texas; sisters Felicity Reedy of Tyler, Texas, and Mary Robinson of Tulsa; and seven grandchildren.