Church member helps fight frivolous lawsuits
LONGVIEW, Texas--Martha McIver, who attends the Church of God Big Sandy with her husband, Neil, helped organize a visit from nationally known television journalist and book author John Stossel in Longview on Feb. 28.
Mrs. McIver, who serves with an organization called East Texans Against Lawsuit Abuse, assisted in the planning of "An Evening with John Stossel."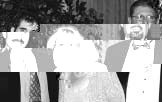 DON'T SUE ME
Neil and Martha McIver, members of the Church of God Big Sandy, pose with writer and TV journalist John Stossel. [Photo courtesy Martha McIver]
The event, at Pinecrest Country Club, included an elegant meal and a presentation by Mr. Stossel. Before the meal and after the presentation, Mr. Stossel signed copies of his book Give Me a Break.
Mrs. McIver explained why East Texans Against Lawsuit Abuse organized the event.
"We are seeking to educate the public about frivolous lawsuits that not only cost each of us in hard-earned money but also clog the courts so that cases that need to be heard are delayed and expensive," she said.
Dave Havir, pastor of the Church of God Big Sandy, who attended the dinner and presentation with his wife, Pam, gave his synopsis of the evening.
"Martha and the other organizers did a wonderful job with the quality decorations and the fine meal," he said.
"When they invited John Stossel to speak, they chose an excellent person to clearly articulate their concerns."