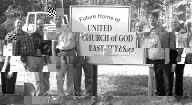 BUILDING PROGRAM — Members of the building committee are (from left) Scott Hammer, Morris Foster, Melton McNeely, Ellis Stewart, Eric Case and Ken Treybig. [Photo by Dixon Cartwright]
Helpful advice
Mr. Treybig thanked the mayor and the city council and the many who he said had given valuable advice on how to proceed with the building project.
He specifically thanked members of the Church of God Big Sandy, whose building in Big Sandy was completed in 1998, for offering helpful advice based on their experience.
Mr. Hammer, whose company will prepare the dirt pad for the building foundation, briefly spoke in remembrance of his father, Buck Hammer, who was committee chairman before his death on Nov. 15, 2004.
Mr. Hammer talked of his family's long involvement with fellow East Texans, including Big Sandy residents past and present.
Buck Hammer's donation of several acres two miles east of Big Sandy to the Radio Church of God in the early 1950s was a major factor that brought the church, Ambassador College and Imperial School to the area.

Leroy Neff of Big Sandy (left in photo) stands beside Ben Nesmith of Hawkins. [Photo by Dixon Cartwright]
Mr. Treybig noted that the United Church of God's East Texas congregation over the years has met in rented halls in Gladewater, Hawkins, Longview, Gilmer and Big Sandy.
He also said that the previous pastor, Roy Holladay, and the congregation had met in 2001 in the Big Sandy skating rink so the members could express their opinions on constructing a church building.
As a result, the local church bought 10 acres on the north side of town, after an extensive search for a suitable location. (The congregation has agreed, as directed by the UCG administration, and because major funding comes from the parent church, to deed the building and acreage to the United Church of God an International Association after all short- and long-term financing is paid off.)

Les McCullough (standing) visits with John Warren. Mr. McCullough is a member of the Ohio-based UCG's council of elders. Mr. Warren, a member of The Journal's staff, represented the local school board, of which he is president. In the background are Sonny and Jane Parsons. Mr. Parsons is a member of the city council and pastor of the local Worldwide Church of God. [Photo by Dixon Cartwright]
Special guests
Mr. Treybig introduced special guests Shawn Schrecengost of Gilmer and Mary Lingle of Big Sandy, financial officers of the Big Sandy branch of Austin Bank, which is handling the major financing of the building.
Mr. Treybig also acknowledged Charles Black of Big Sandy, whose company will provide the concrete foundation for the building; Bill Supan of Judson, a representative of Key Buildings System of Longview, which will erect the metal structure (Mr. Supan was not present); and Mr. Foster, who will manage the construction.
Mr. Foster and his crew will finish out the building and supervise the volunteer crews.
The short ceremony ended with reporters and others taking pictures of committee members' shovels breaking the ground.