SEE ready to begin in Port Austin in August
PORT AUSTIN, Mich.--Norman Edwards, publisher of Servants' News newsletter, has announced the names of several members of the staff of his new school for young Sabbath-keepers.
The school, called Sabbatarian Educational Environment, or SEE, is set to kick off Aug. 17 in Port Austin in the buildings and on 30 acres of a former U.S. Air Force base.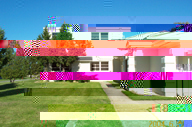 NEW SCHOOL
These buildings on the campus of SEE house classrooms,
the library, the gym and an assembly room.
[Photo by Paul Drieman]
Mr. Edwards and friends have organized a ministry called the Port Austin Sabbatarian Church Community (PASCC), which he describes as "a group of believers working together to live by biblical laws and principles."
Implementing a variable one- to three-year curriculum, SEE will seek to:
Teach principles gleaned from the Bible.
Serve as a witness of Bible principles to the general public.
Educate young people in "Bible basics" and help them "prepare for ministry within their marriage, family, church and community," including the learning of "life-sustaining skills."
"Serve older brethren" by providing opportunities for retired persons to serve at the facility as mentors and teachers.
Be a repository of Bible-study literature and disseminate it to others.
"Chronicle the experiences of the community in word, song and other media" in an effort to inspire others to found similar communities.
The people at SEE plan to raise some of their own food, eventually generate their own electric power and meet daily for "praise and prayer," Mr. Edwards said, although SEE does not advocate living by outmoded technology or dropping out of society.
Also, "we will not become a church organization or attempt to control other church groups," he said.
Staff members include Bill Buckman, librarian; Paul Drieman, building maintainer, farmer, youth-ministry organizer and church pastor; Phil Frankford, communications and computer expert; Homer Kizer, writer, artisan, historian, craftsman and poet; Al Raines, industrial-arts teacher; Carolyn Smith-Kizer, anthropologist, art historian and seamstress; and Terry Williams, businessman, farmer, outreach-ministry coordinator and elder-care facilitator.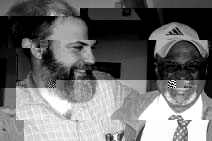 Norm Edwards and Terry Williams
"Each of these Christian Sabbath-observing brethren has spent thousands of hours studying the Bible and has a desire to teach, share their experience and serve others," Mr. Edwards said.
As of the end of July, SEE has three confirmed first-year students, three more talking about enrolling and "many more thinking about it," said Mr. Edwards.
"Many of these people do not have a WCG background. The Sabbath, feast days, clean meats and many other Bible truths will be observed, but the WCG past will not be a part of the teaching program."
Other Church of God leaders, such as Darryl Henson of Fredonia, Ariz., have organized communities of Sabbatarian Christians, but "as far as I know I don't think Darryl is doing anything like we are with education," Mr. Edwards said.
"We are reaching out to the local area. For example, we're going to have a marriage seminar on campus and invite anyone who wants to come. Jeff Ledy will come down [from Perry, Mich.] and present that for us."
The SEE experience will include conducting a Feast of Tabernacles observance on the grounds beginning Sept. 29.
For an application or more information, write P.O. Box 610, Port Austin, Mich. 48467, U.S.A., or see@pascc.net, or phone (989) 738-7700.
Read more about SEE in two articles in The Journal of Dec. 31, 2003.