Mr. Armstrong, with Mr. Rader's help, rode out the ensuing scandal, which had been prompted when disaffected WCG members sued the church, charging that Mr. Armstrong and Mr. Rader were living an extravagant lifestyle and had sold church property below market value for private profit.
The attorney general dropped his investigation after Mr. Rader, joined by other groups—including Baptists, Lutherans, Methodists, Presbyterians, the Synagogue Council of America and the American Civil Liberties Union—won passage of a bill in the California legislature that removed the attorney general's power to investigate religious organizations over alleged misuse of funds or other fraud.
In those days, according to a July 4, 2002, article in The Los Angeles Times, the church had a reported tax-free income of $70 million a year and boasted media coverage and financial resources greater than the Billy Graham and Oral Roberts ministries combined. (After Mr. Rader's departure as treasurer, the church continued to grow. By 1986, the year of Mr. Armstrong's death, annual income had risen to $210 million.)
In 1976 Mr. Armstrong moved to Tucson and set up housekeeping with his new wife, the former Ramona Crittenden Martin. He maintained residences in Tucson and Pasadena, but after the state's invasion of the church's headquarters he spent more time in Arizona in an apparent move to avoid subpoenas.
Mr. Rader, who once proclaimed in court that Mr. Armstrong was "God's apostle, Christ's representative here on earth," wrote an account of the incidents and their aftermath in his book Against the Gates of Hell, published by Everest House (a publishing company owned by the WCG) in 1980.
Mr. Rader and Mr. Armstrong were at the core of another church controversy when Mr. Rader allegedly alienated Mr. Armstrong's affection for his son, Garner Ted Armstrong.
Herbert Armstrong banished Garner Ted from the church in 1977, with the younger Mr. Armstrong subsequently founding two churches, the Church of God International in 1978 and the Intercontinental Church of God in 1998.
Not long after Garner Ted Armstrong left Pasadena church headquarters, Mr. Rader moved into his office, adjacent to Herbert Armstrong's office, on the fourth floor of the Hall of Administration.
Mr. Rader, according to a press release distributed by his son, Stephen, and newspaper reports, was born Aug. 13, 1930, in White Plains, N.Y., and grew up as a secular Jew.
He moved to California to attend the University of California at Los Angeles, where he earned his undergraduate degree in 1951 and met Natalie Gartenberg, who would be his wife of 51 years.
Mr. Rader became a certified public accountant in 1954 and attended law school at the University of Southern California, graduating first in his class in 1963.
Mr. Rader reportedly first met Mr. Armstrong in 1956. As early as 1959 he appears in the Ambassador yearbook, The Envoy, as "Auditor and Financial Advisor for the Church and College." (The last Envoy he appears in is the 1980 edition.)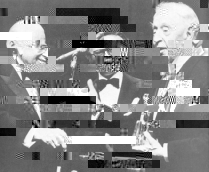 MUSIC IN THE AIR - Stanley Rader (center) and Herbert W. Armstrong (left) visit with piano virtuoso Arthur Rubinstein in the Ambassador Auditorium in Pasadena in 1975. This photo also appears in Mr. Rader's 1980 book Against the Gates of Hell.
Because of and connected with his travels and relationship with Mr. Armstrong, Mr. Rader was reportedly decorated by Emperor Hirohito of Japan and lectured at Fudan and Beijing universities in China.
According to the younger Mr. Rader's press release, Stanley Rader saved the day at the opening performance in 1974 of the Ambassador Auditorium.
"When rebuffed by the Los Angeles Philharmonic," says the release, Mr. Rader "persuaded Carlo Maria Giulini to lead the Vienna Symphony Orchestra in an inaugural concert and then arranged for scores of topflight talent to visit Pasadena, including Arthur Rubeinstein, Vladimir Horowitz and Luciano Pavarotti."
The auditorium for many years played host to entertainers of renown.
Mr. Rader was closely involved in the church's founding of the controversial Quest magazine; Everest, the bookpublishing house; cultural centers in Jerusalem and Sri Lanka; and sponsorship of archaeological excavations in the Middle East, including one alongside the Wailing Wall in Jerusalem.
Mr. Rader left the positions of general counsel and treasurer for the WCG in 1980, at which time the church reportedly paid him a $250,000 bonus and paid out his compensation contract until 1987.
The Los Angeles Times reported July 3 that Bernie Schnippert, WCG director of finance and planning, said the church continued to pay Mr. Rader from the church's "discretionary retirement program" until his death.
Mr. Rader is survived by his wife, Natalie, "Niki"; his sister, Joan Klein; his daughters, Janis and Carol; his son, Stephen; and five grandchildren.
Memorial services were July 5 at Mountain View Cemetery in Altadena.