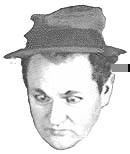 Courtesy of Basil Wolverton's son Monte, here is Mr. Wolverton in a hat he wore in his vaudeville routine "Goof and the Uke."
Read Brian Knowles' affectionate tribute to his friend Basil Wolvertonn in the Jan. 30 issue of The Journal. The article includes Lena the Hyena and illustrations from The Bible Story.
The Journal is available from P.O Box 1020, Big Sandy, Texas 75755, U.S.A., and https://www.thejournal.org.